Best weekend ever in Mozambique!! We love April! It is our month of traveling because of all the holidays. In the last 2 weeks we have done so much driving, it's good to be home. But we leave to Kenya & Tanzania for 12 days TOMORROW NIGHT! Wow. This month is flying by.
Side note:
Cars really communicate with each other down here. It is something that both South Africa and Mozambique do that I think America should implement. So I'll set up a scenario, with
blue
car and
red
car:
Red
car is getting ready to pass
blue
car.
Blue
car will help
red
by signaling with their right blinker if it's clear, then when
red
pass
blue
,
blue
gets way over in the emergency lane to let
red
pass pretty much in the normal lane. Then
red
does the hazard lights a couple of times to say "Thank you" and then
blue
flashes to say, "You're welcome."
So simple but so cool. It's a system and people are very courteous and aware of other drivers. It's a fun thing to do!

Anyway, we had arranged to stay with the Mission President for the weekend. Ben was excited to see them again and they were excited to hear more about Ben's mission and let us come along for the big missionary transfer happening that weekend. We left Friday at around noon and got to Maputo (Mozambique's capital) at about 7:30pm. It is a big mess of a city and it was dark, our GPS wasn't doing a very good job suddenly and we got started to get a little nervous. Said a prayer and took a right turn, BAM there were the missionaries! Prayers work. So we called out to them and asked them where the Mission President's house was. They were kind enough to hop in and show us there. It was fun to talk to them. One of them was Elder Barlow from South Jordan and the other was Elder Sande from Mozambique, who actually knows a lot of Ben's companions. If you're reading this, Jones, Taylor, and Abegglan, he remembers you! He remembers "horsing around all the time" with Jones! That was cool.
Anyway, President and Sister Packard are amazing! We had the best time with them. They have adopted an adorable girl from Mozambique named Lindy and she's 9. Their nanny and her baby were so fun and so cute. The nanny, Arracuta (spell?) is actually married to Armando (for those of you who are Ben's companions, remember him?? He's actually in Salt Lake living right now). This little man Nathan is only 5 months old! He's so chubby! We loved him.
Saturday morning we to took a walk down to the beach which was just a block away. SO beautiful. The weather is so different than in South Africa, it's very hot and humid in Mozambique. Ben only spent 4 months in Maputo in his second transfer, but he was soooo excited to be back. It is truly his second home.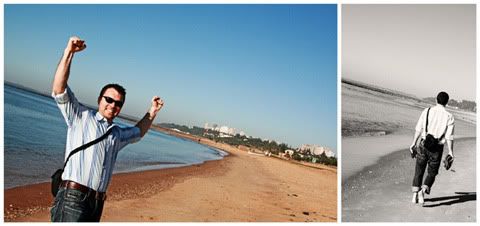 At 11am we went with the Packards (drove separately) to the missionary transfer meeting.

Classic Mozambique experience:
we got pulled over by the cops! We were in a 60km/h zone and we were probably going 45. They pulled us both over (
because we're white
) and were going to give us a ticket for going 68. They didn't have any radar or clocking devices, they were all just standing by their cars on the side of the road. Well, with Ben's charm, church talk and help from the Lord, we were let off after a while. Scary though!
Here is the church in Maputo:
It was so fun to see all the missionaries and to hear about the growth. There were only about 28 missionaries when Ben was there, now there are 82!!! There are about 30 in Maputo alone. We met Elder Nagao, Josh Nagao's younger brother. These missionaries are awesome.
After the meeting, we drove around all of Maputo. The sights are amazing. I wish I could've taken a picture of so many things but driving was just a little too crazy. They have potholes the size of cars everywhere, so you really have to pay attention.
Those are chickens in those cages: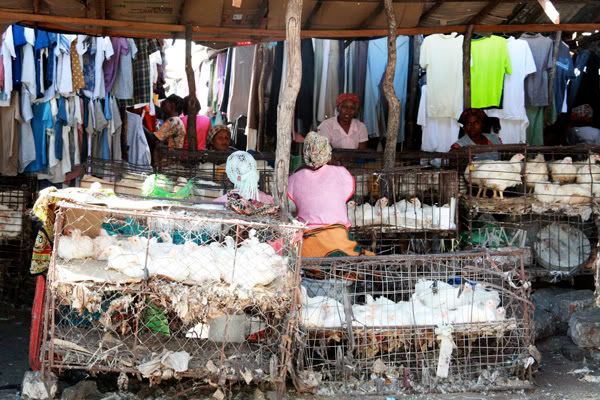 We went to the Saturday Market to look at all the boutiques and souvenirs. These are my favorite, here's Ben doing his negotiating:

Oh I love this. Ben says he's making me ride one of these Chapas when we go back. They sure CRAM:

I had to stop for a picture of this. So sweet and so African. This little girl carrying this huge basket of stuff back home to mom: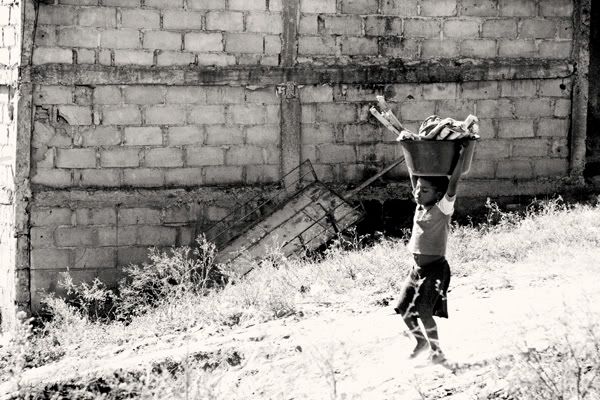 We stopped and parked on this back road because we wanted to walk through the actual places where they live. This was my favorite part of the whole weekend. Seeing how they really live. Their tiny houses. They are so poor. It really is eye-opening. This was Ben's favorite part too because it reminded him of Beira, where he spent most of his mission (we're going there in June).
This is my new favorite picture. All women, in South Africa too, carry their babies like this. I just love how the little baby was looking back at me for so long.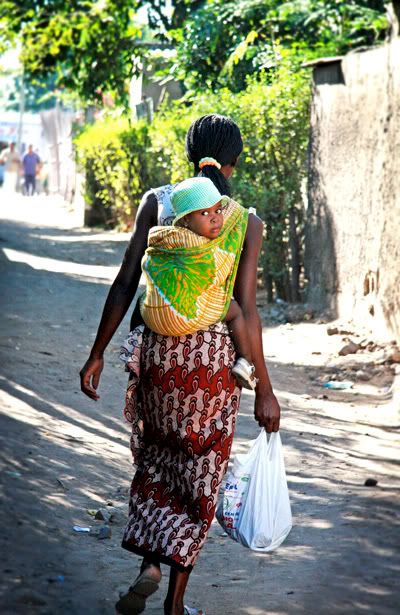 Bath time: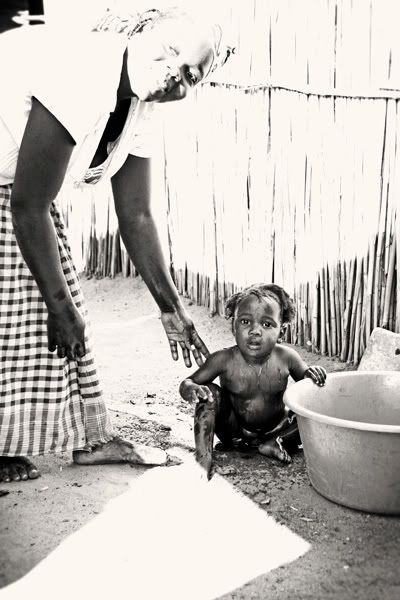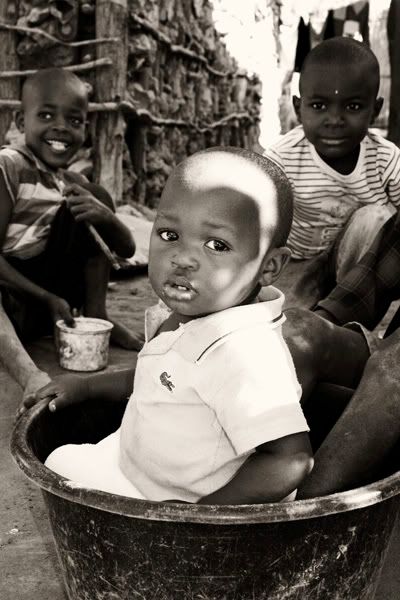 Look how white I am!

Smashing the peanuts into powder. I tried this, it is hard! You have to get right in the middle or it all flies out and tips over. Good thing I didn't do that!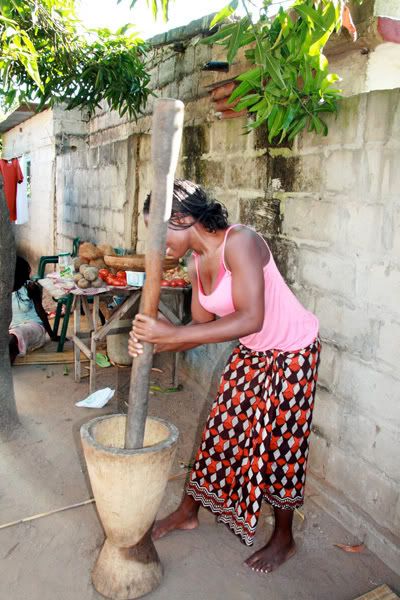 All the kids kept following us. This is the group we had accumulated towards the end of the alley. Ben was dancing with them: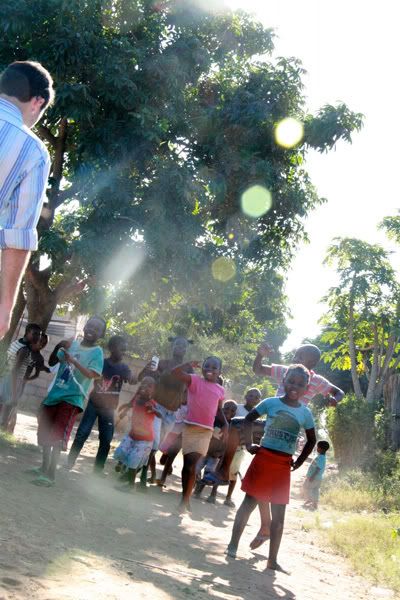 I want one of these: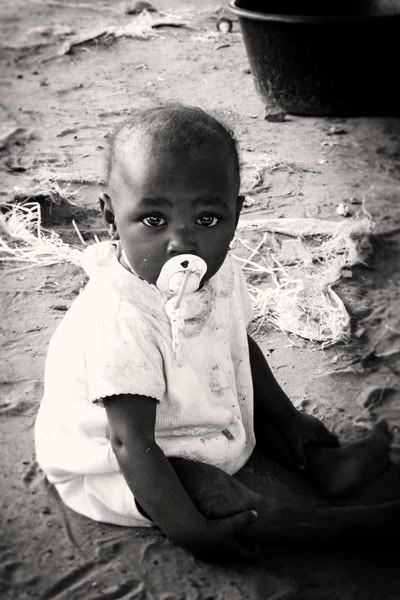 Here were 2 albinos (one you can't see in the right behind the tree). They were tearing up the coconut shell to make cushions. Cool!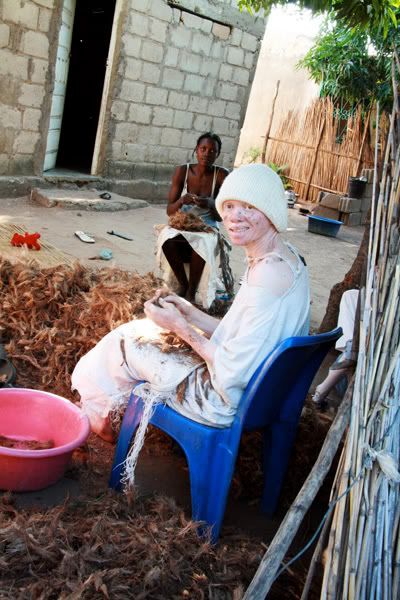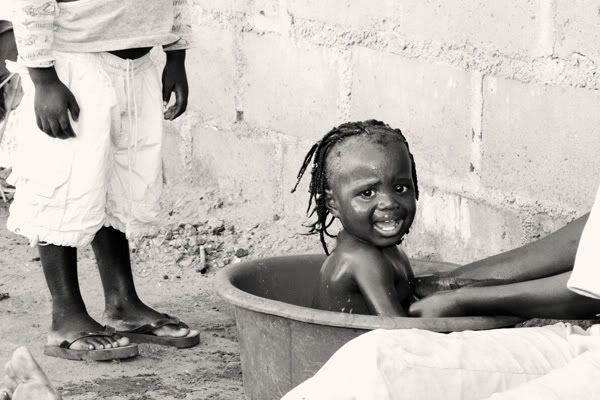 Isn't she GORGEOUS!?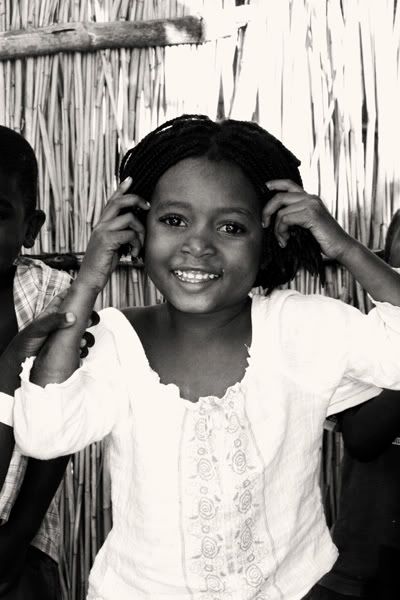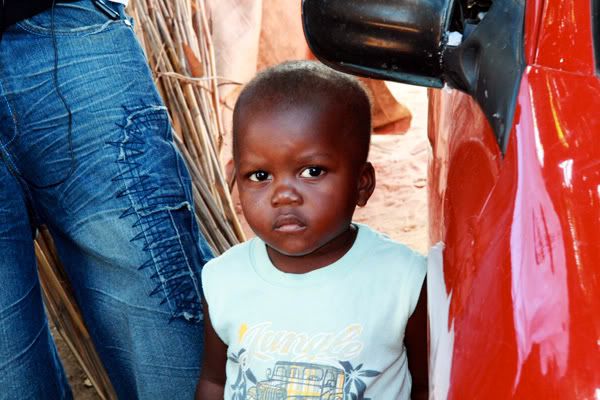 Laughing at Ben of course:
Saturday evening we went back to the Packards and walked to the fish market with them down the street. We had quite the authentique experience. We got to pick out our own fish, I could barely stomach it while the men picked the fish and other sea things out. Then we had someone there cook it for us. It was actually AMAZING! I was very skeptical but it was SO good. That was really fun.
Ben was able to call and talk to
Jose Maingue and Iris Domingas,
he was so excited. It was so fun to sit back and hear him make those calls.

Besides the day Ben married me, I have never seen him so happy:)

Sunday we went to church in Matola. He was mostly excited about seeing
Jaime and Anita Massango. It was so fun when he did. They love Ben so much! Church was amazing. The church building is just a random building in town and is very run-down
. Same church, same Spirit, same great people.
This girl befriended me in Relief Society, even though we couldn't speak the same language, we had fun together.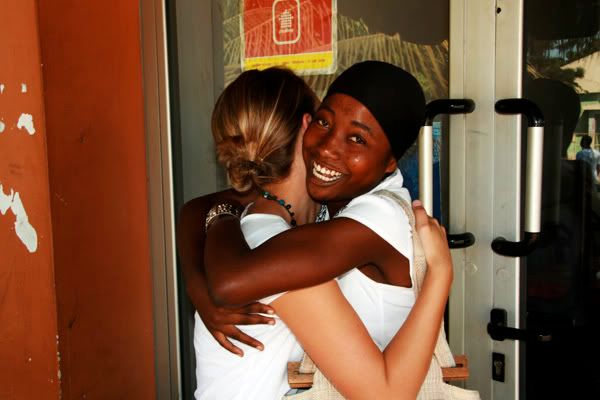 Here's Ben with the
Massangos he was so looking forward to seeing. They actually have 2 kids, one was in primary. Jaime is the Branch President and has been for the last 5 years. So neat.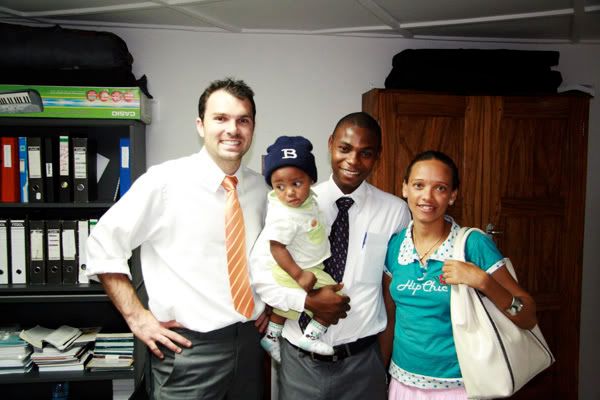 We were able to drive home through Swaziland. What a beautiful country! Tons of mountains and trees. We were able to drive to the gate of the King's palace...but the police wouldn't let us in. (Look at the map in the post directly below, Swaziland is the small country inside of South Africa next to Mozambique)
What a fun experience for me to finally see where Ben served and see what Mozambique is all about. I can see why his heart is there and why he loves it so much. I can't wait to go up north to Beira,
Manga, Inhamizua, and Marromeu
this June to really see the
real
and rural Mozambique, the places he spent all but those 4 months of his mission.
We leave to Kenya and Tanzania TOMORROW at midnight! I can't believe it!
See ya May 5th!