This weekend was the best! It was all about ME!! :) Just kidding. But just kind of. Friday was my 24th birthday and today was my first Mother's Day (almost official...she's just inside me on this one).
To start, my cute Aunt Christy and cousin Tiff took me out to lunch at an awesome little Italian place. This is Tiff, we're due 10 days apart with little girls: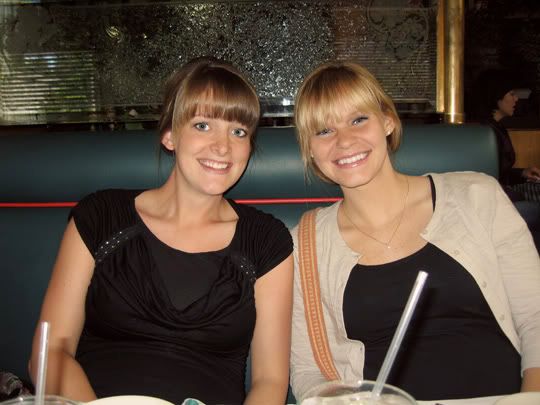 Shannon, Corinne and her 2 boys, Ben and Austin, took me out to eat Friday to Sweet Tomatoes (love that place)... they're so stinking nice -- love you guys! And congrats to Shannon who had her baby boy TODAY -- we can't wait to meet big (9lbs 13 oz) Wyatt!!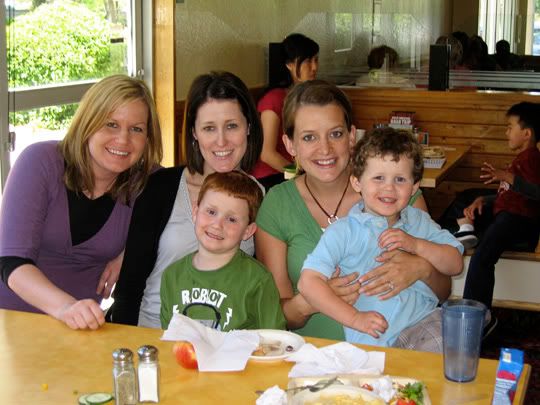 Ben got off work early (6pm) on Friday and we celebrated by doing dinner and seeing Iron Man 2 (which we enjoyed). Saturday he surprised me with a drive to the Napa Outlet stores to buy lots of baby clothes at Baby Gap and some other places. It was a blast. She is going to be the best dressed little lady in town! We went to lunch, came back and went swimming and laid out by the pool (I apologize to everyone who saw the huge pregnant woman getting some sun... I know it wasn't pretty).
And today was an awesome day with cute cards and flowers. (We're the new 5-6 year old Primary teachers... oh and there's 14 of them. We love it). I am one lucky woman with the best husband ever. He sure spoiled me this weekend!
Here's week 29 & 30 (Can't believe we only have 10 weeks left!):
(Click the pictures to enlarge)
And to our moms:
WE LOVE YOU SO SO SO MUCH!!
Thank you Lisa for having and raising Ben to be the incredible man that he is today. He has so much of you in him and I love it. I couldn't have picked a better mother-in-law, I am so lucky. Thanks for all you do and have done for me and for Ben over the last 26 years. You're amazing.
And my mother dear:
You gave birth to me 24 years ago. Thanks for that.
You put up with your smart, independent, ornery little curly-headed girl for 24 years.
You taught me the piano.
You taught me the gospel.
You were always there for me and taught me that the "sun will always shine again"
You believe in me.
Now that I'm pregnant and starting a family, I want to be a mom just like YOU were to me. And I hope I will be.
You'll be the best Grandma ever.
I love you.
Happy Mother's Day to all you moms out there! And to all the special women in our lives: Grandma Johansen, Grandma Gooney, Nan, the sweet late Sitty Garrison,
and Janet (and many more!). We love you!