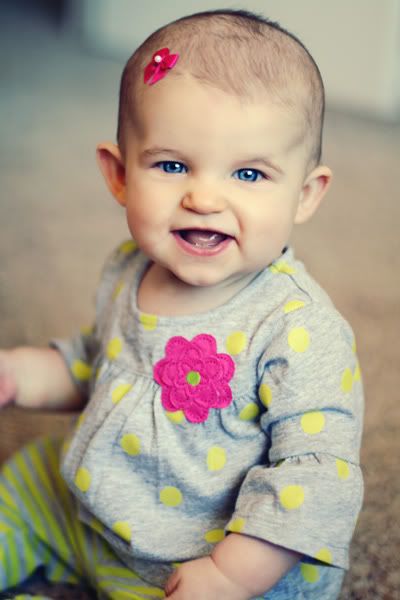 She is super coordinated and strong for her age. As a lot of you know from the video below, she started crawling about 4 weeks ago. It's becoming less and less of a scoot, and more of an actual crawl. She rocks back and forth on her knees and then lunges forward on her stomach to move. She takes actual steps now with her legs when we walk her around, holding her by her hands. She also can go from crawling position to sitting up all by herself! SO cute!
She loves her hands. She puts them up in the air and watches them. She loves to use them and man is she strong. She loves to grab at people's faces now and can pinch harder than anyone I know.
Her favorite "toy" is my measuring tape:
She got her first really bad cold this month. It lasted 3 weeks. Baby cold = awful.
She's a pro at eating baby food now. We give her fruit and oatmeal in the mornings, vegetables (she loves anything orange: squash, sweet potatoes, and carrots) and then vegetables/meat and oatmeal at night. She loves food and gets the BIGGEST smile when she watches you eat.
She and her 2nd cousin Reese are buds. They are so stinking cute together
(Claire is 11 days younger)
.
Claire's nickname is "Tines" cause she's so much smaller than Reese.

She is a little better at nights. She's slept through the night a few times (around 11pm-8am), but we still have bad 2-3 hour nights every other night it seems.
She finally graduated to a few 6 month outfits, but still fits in a lot of her 3 month stuff.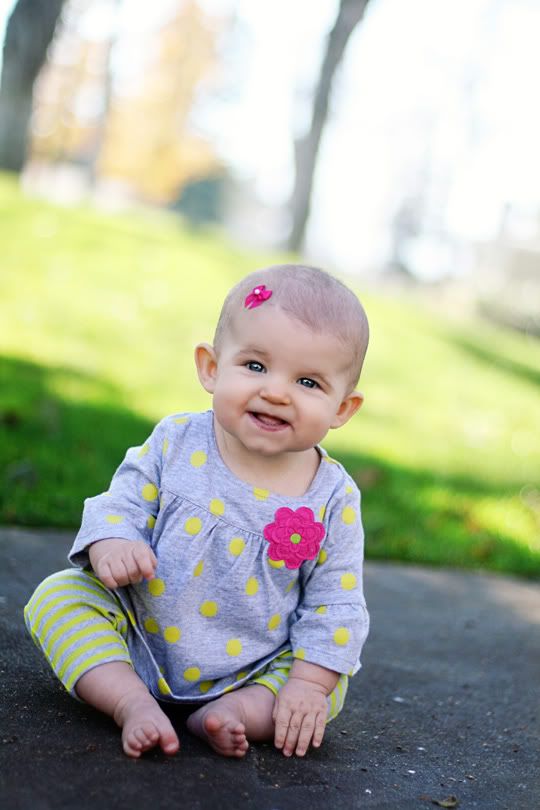 Her first stroller ride without the car seat! We went for a walk around our complex today. It was almost 70 degrees outside! We are going to miss California weather!!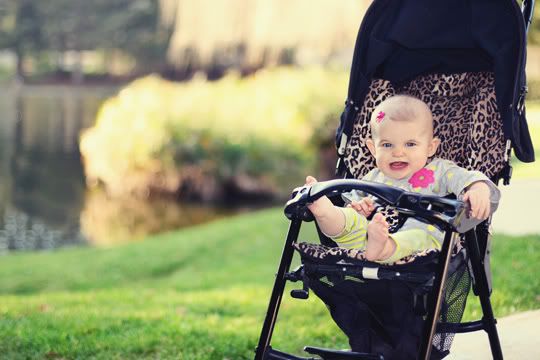 She loved it.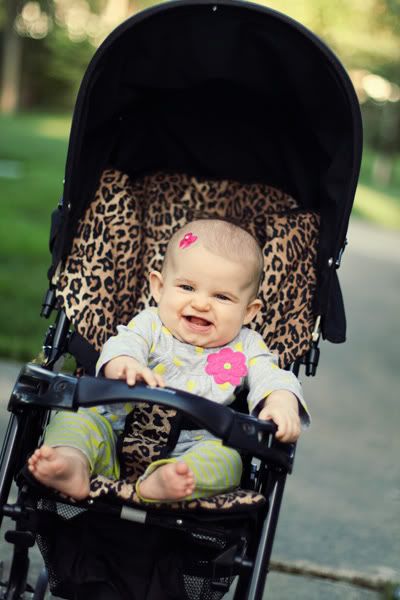 She loves to crawl, get stuck in funny places, she plays with our toes, sucks her bottom lip, puts her hands behind her ears when she's tired, crinkles her nose when she smiles, and has us wrapped around her little finger.
Claire is so much fun. The more time I spend with this girl, the more I fall in love. She is just sooo sweet, loving, curious, happy, loud, talkative, funny, adorable... I could go on and on. I know that if these next 6 months go by as fast as these last 6 months, I'm gonna have a 1 year old before I know it. Gotta cherish these days like craaaazy.