This was one incredible trip people. Seriously. Both of us agreed that this was the most amazing trip we have
ever
been on in our lives. It is something that should be on everyone's 'bucket list'...do it when you're old and retired...or whenever in your lives that you can. I don't know if you've seen Planet Earth (we LOVE it) but go get it and watch the part on the Serengeti and the Great Migration. This is where we went and what we saw.
I thought it would be a lot easier for all of us if I just put the pictures in a slideshow. We had over 2,000 amazing pictures. So here's 200 in the slideshow (this will go to our Picasa album, just click the option Slideshow at the top if you want it):
Click on the picture below
(maybe after you finish reading the whole post):
(**Note: Please email me for permission to use any of my photos. They are only for your viewing pleasure!)
So let's start at the very beginning, a very good place to start (20 points if you name that movie). Wednesday and Thursday we spent in Arusha, Tanzania. We flew over Mt. Kilimanjaro which was cool. We must say, we think that mountain is a little over rated. It looked like a big ant hill and we talked to some people who climbed it that said it was just, "ok"...so it's not on our list anymore. We spent hours and hours just walking around in the back country and villages of Arusha. It was so neat. It's the best way to really see the culture and the way people live. It's so amazing. One bedroom places with nothing. It's so eye-opening. It will really bug us that wherever we go people say, "Mazungu(which means, "White person!")" And hold out their hands for money. They say, "You're rich! Give us money!" And you think, "No we are not! Stop it!" But then you see what they have and you think....man, yes we are! When their entire house is as big as our master
bathtub
, you know you're rich and blessed.
Anyway, that was fun. We got to know the culture of the Maasai people as well. Maasai is one of the biggest and most well-known tribes of Eastern Africa. They are the ones on the movie Ghost in the Darkness (true story about 2 man-eating lions, it's great, see it if you haven't) that they hire to try to kill the lions. They are semi-nomadic people who carry out a lot of their ancient traditions. Like drinking cows blood. They are mainly goat and cow herders. Belonging to the Maasai tribe doesn't mean you belong to a certain religion. It is probably half Christian and half Muslim. They live in their individual family groups. One main "chief" man will have 20-30 wives and many children. They stay together and the young men can break off when they're about 25 years old. Then they go find their own wives to start their own small village. The more cows the better. And you basically do nothing. Your wives do everything, cook, build the houses, take care of the kids, etc. They are always protecting their cows from lions and other predators, but killing a lion will give you celebrity status in the group. We talked to a young man who had killed 2 so far. And his tribe had collectively killed 17! Ah!
Also, the main language of Tanzania and Kenya is Swahili. We actually learned a ton of it and as I'm writing these animal names, I just keep thinking in Swahili. I even dream their Swahili names. We really are dying to watch The Lion King again because that movie is totally set in the Serengeti and we had no idea! Pride rock: the lions really hang out on all these huge Kopjes rocks, the names, it's all Tanzania! Rafiki means friend, Simba means Lion, etc.
Anyway, Friday we met our driver Sudi. He was awesome. Oh and by the way, we were on our own private safari. We were the only ones! So he was our driver for the full 10 days! We had the safari vehicle to ourselves and were some of the only ones at all of the lodges. Friday and Saturday we stayed at an awesome lodge overlooking the Tarangire National Park. We had 2 full safari drives here where we saw hundreds and hundreds of Elephants, Giraffes, 4 cheetahs, and tons of other animals. Our main goal for the trip was to see the "Big 5": Lion, Elephant, Water Buffalo, Rhino, and Leopard. Especially the Leopard though, since that was the only animal we haven't seen so far. It's so rare and hard to spot. They call them the 'devil' because they are so invisible.
The Big 5

Simba



Tembo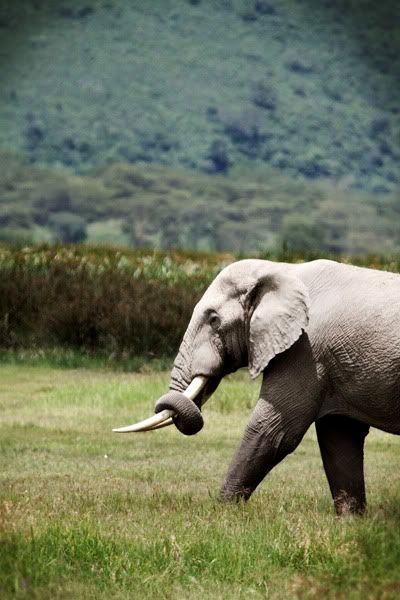 Mbogo



Chui



Kifaru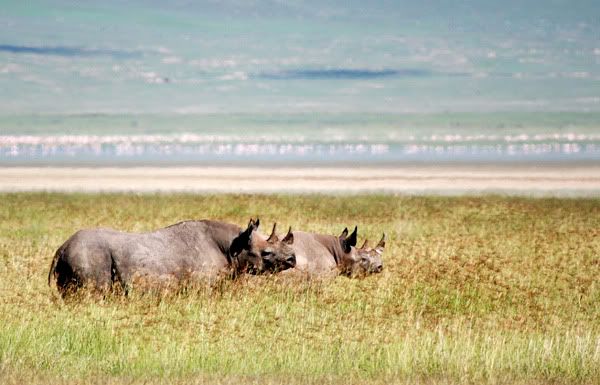 Saturday we went to Ngorogoro Crater to stay for a couple nights. Have you seen The Land Before Time?? Ya know in the end when they finally make it to that beautiful lush valley? This reminded us exactly of that. It was like a Garden of Eden. It was stunning. Beautiful. Nothing like I've ever seen. Lush Tarzan-like mountains and then this big flat crater at the top of this mountain and it's full of wildlife!! Our lodge was at the cliff of the crater, overlooking it. We just sat at our windows with binoculars spotting animals!! Here we saw our first lions of the trip. We saw about 10 of them right after a kill, eating the wildebeest. We saw 2 cheetahs, 30 more lions, tons of elephants, giraffes, wildebeest, zebra, buffalo, flamingos, warthogs, hyenas, and 6 black Rhinos, which was supposed to be impossible to see at all! We saw a family of dumb warthogs bugging a cheetah, 4 hyenas trying to take down a water buffalo, an elephant with the biggest tusks we've ever seen, and much much more. It was awesome. Our first morning we woke up and the crater was FULL of fog. We couldn't see anything. So during breakfast, Ben said a prayer and he said the second he opened his eyes, the fog just cleared like God had blown right into the crater. Pretty cool. We were definitely blessed on this trip.
Monday-Thursday was spent at the Serengeti National Park. The highlight of the trip (pretty tied with Ngorogoro Crater though). Wow. The Serengeti means "endless plains" in Swahili which is exactly what it is. You could drive around for 4 hours until you saw something. It's just so vast and endless and beautiful. On our first day here we saw a LEOPARD!! Oh it was awesome. They are my favorite just because of how beautiful and cool they are. There was actually a resident mommy leopard with 2 cubs living by our place. They actually came into the dining area one night while we were all asleep. Scary! We heard them every night. Pretty cool huh?!
This was like Lion WORLD! Everyday we saw 50 lions. And the first sighting of Lions we saw in the Serengeti was 9 females, 2 males, and 18 two week old CUBS! It was incredible. They were so cute. Everyone will tell you to do a safari during June-August because everything is dead so wildlife is a lot easier to spot. We would disagree. It's the busy season first of all, so it's super expensive. It's dead, so it's not as pretty. We've decided April-May is the best because prices are low, it's still green but fine to see animals and it's birthing season! We saw so many babies! Every animal, we saw their tiniest babies. What could be better than that!?
We also got to witness The Great Migration. This is where 3.5 MILLION wildebeest, zebra, and gazelle migrate across the Serengeti together in a cycle. It was incredible. They just went on forever, tiny dots forever and ever. Millions and millions of them.
Thursday we went to Lake Manyara for 2 nights. This was absolutely breath-taking as well. Not as many animals, but still tons of elephants and giraffes. And beautiful views from our lodge.
Then we were done! It was incredible. Again, go write it on your lists of places to go before you die. And if not, go rent Planet Earth and watch some of those sections. God really has some amazing places on this earth. And those animals! It's so crazy to really think about them. He had fun making them that's for sure! Look how different they all are! So COOL!
SO COOL!