She went from 12 lbs 4oz to 13lbs 6 oz. She gained over a pound this month! (And so did I.... still have 10 to go did I mention that? Oh well).
She's still small and has MANY 3 month outfits that don't fit her yet. I just got her skinny jeans in 3-6 month size but they are about a month away from fitting her.
She gets prettier by the day. I don't see how she can get any cuter, then BAM she's cuter.
She won't sleep on her stomach anymore. She used to love it for naps but now she
only
sleeps on her side for naps
(and back for night time)
.
She takes naps like a champ. I give her the binkie (which she kicks and smiles and opens her mouth in excitement for), I lay her down, she rolls to her side and closes her eyes and falls asleep.
She smiles like crazy. Especially when she wakes up.
She's started grabbing at our faces and man does she PINCH!
This last month has been rough sleeping-wise. I'm really excited to try rice cereal this week. I think it'll help her sleep through the night better.
She's grabbing her toes. Hasn't put them in her mouth yet, but she'll get there soon.
She rolls so much it's as bad as crawling. I put her down, go do the dishes, and suddenly hear her bawling at the top of her lungs. She's rolled 3 feet and hit her head on the coffee table. Seriously? She's 4 months old!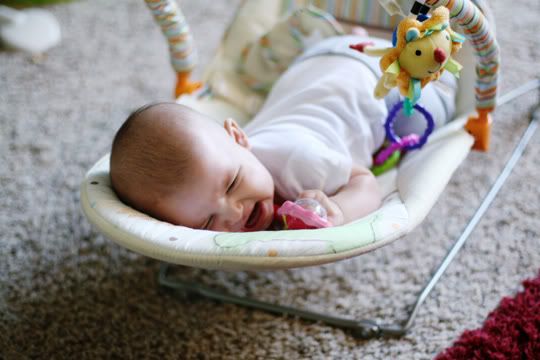 We've had to use that silly buckle on the changing table to strap her down or she'd roll right off. She rolls in her bouncer, in her tub, on your lap, on the boppy.... just about anywhere.
She's amazing at standing. Has been since week 4.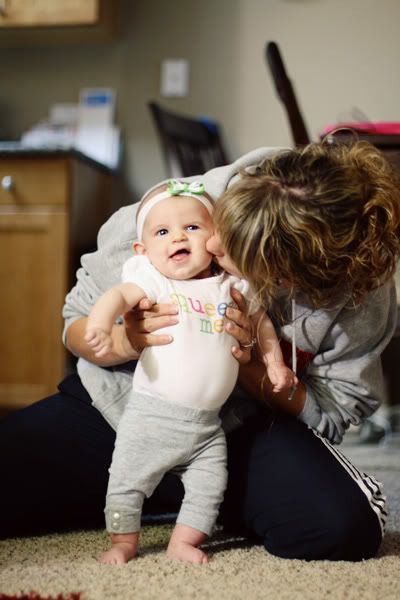 Her schedule is really predictable now: Goes to bed at 8pm, wakes up at 8am. Takes 3 one-hour naps at 10am, 1pm, and 4pm (hopefully we'll weed out the 4pm one soon), eats when she wakes up at 11am, 2pm, and 5pm. However, nighttime is NOT predictable. She can go till midnight, then wake every 2 to 4 hours. Ya never know.
She won't sit up straight in her bumbo anymore. It's not long before she's sideways and all contorted trying to roll out of it.
She still loves getting her diaper changed, taking baths with daddy, facing outwards in the Bjorn, kicking, watching Baby Einstein, and yelling.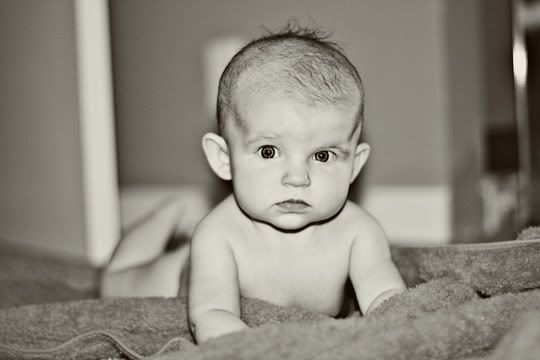 On a different note, I couldn't wait any longer to put up our first Christmas tree and decorations. We've never had one (either been home visiting the whole Holiday or been in Africa) so we're excited. It's a cute little 4-footer and it's perfect.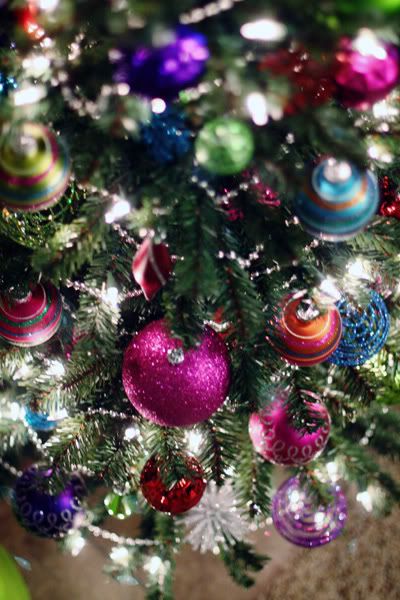 Claire loves it too: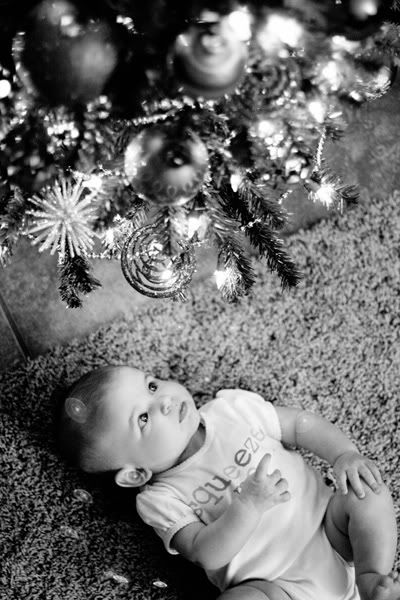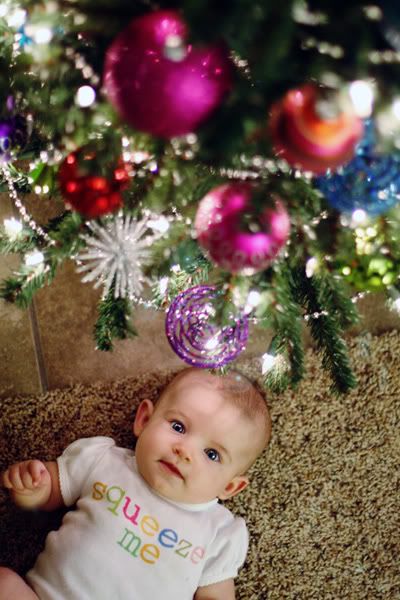 Remember the video of
her first month
? Well I've made one now of month 2-4 (could NOT cut it below 15 minutes no matter how hard I tried. And it started with over an hour so good job to me. Just watch it--it's adorable)
Click the arrows to make it full-screen:

We're off to Disneyland tonight! We're finally using the free tickets we got from volunteering with Dublin Pride Day. It'll be interesting just being the 3 of us, taking turns watching Claire while the other one goes. But we're so excited. Then we're off to meet my family in Vegas for the weekend!
Happy Thanksgiving everyone!