New this month:
She only weighs 16 pounds this month. Didn't gain much compared to every month before! She's still not fitting in a lot of her 6 month outfits. Grow already! Mom is ready for some fun new outfits!
She LOVES bath time and faucets. She sits at the faucet the whole time trying to grab the falling water. Now she has a giant tub that she can crawl around in, she loves it.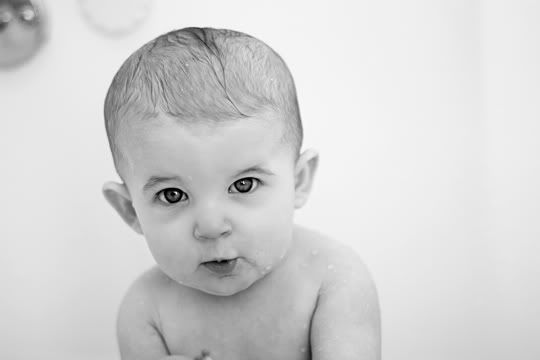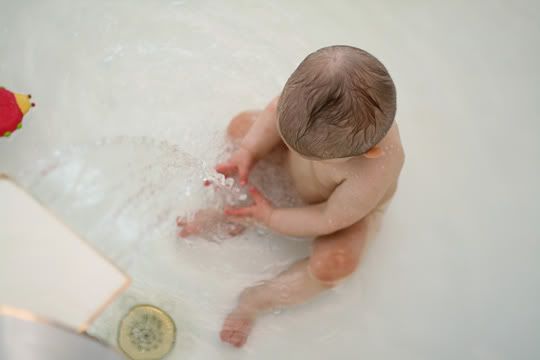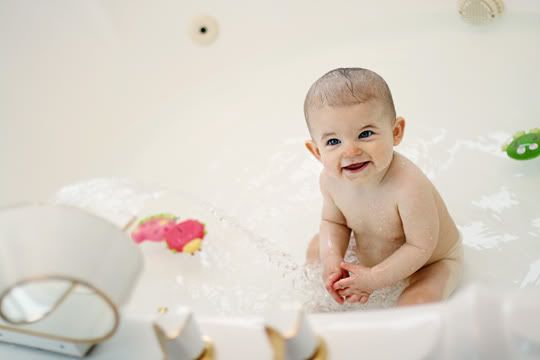 This had been one rough month in terms of sleep for the both of us. She got sick AGAIN, which kept her up due to stuffy nose, ears, headache, coughing, and who knows what else. Luckily, Ben has adapted to having a screaming child and sleeps right through it. Sleeps right through me kicking and punching him while yelling his name too. Lucky chap.

BUT I'm happy to announce that moving was all she needed. Once we got here 4 nights ago, I let her "cry it out," lasting only about 20 minutes twice and she slept clean through 8pm -- 8am!!
She went from 7 feedings a day to 4! And only makes a peep around 1am or 3am and then goes back to sleep. It has changed my life.
New with momma: I'm feeling VERY behind in the fun "losing baby-weight department." Yes nursing shaves a lot off without any effort, but then there's a plateau you hit when you're still eating junk and not exercising. Hit that about 2 months ago. I know it's all my fault, only having exercised a handful of times, but it's hard when you don't get any sleep, and the nursing thing makes dieting out of the question. So.... I'm excited to get rid of the extra 10 pounds lurking and haunting me. I officially start exercising and eating healthy THIS WEEK. Gosh, wish me luck.
Back to Claire. Standing. On everything. I love it, it's so cute. When you stand in one place for more than 3 minutes, suddenly you'll feel a little mouth on your toes, then hands pulling on your pants, and then she's balancing herself with your legs. Now that we're in this large house
(living at Ben's dad's house for a while)
, she has much more space to crawl and stand and explore. She always finds herself stuck under a coffee table, in between chairs or who knows where else. She's got me on my toes!
She is the happiest baby on earth. Always smiling so big you think her face is going to crack. She loves to scrunch her face/nose.
Loves banging on her new piano: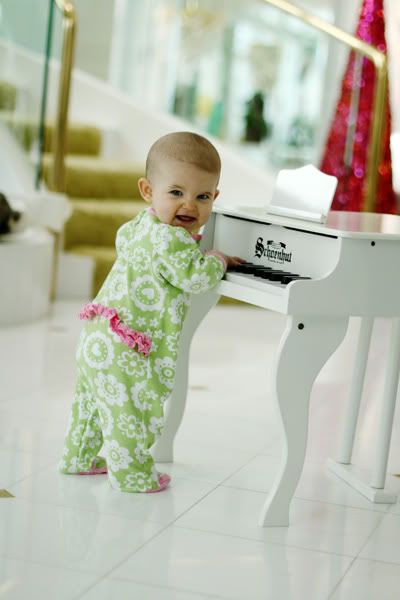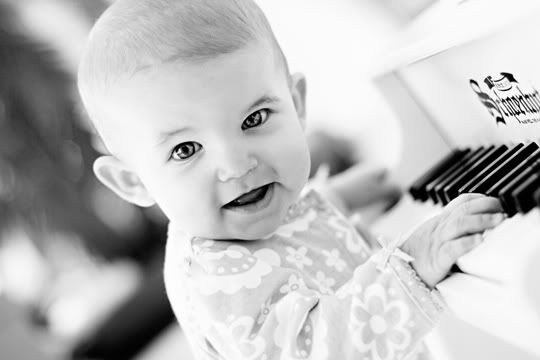 And is eating finger foods like a champ! You eat 3 times a day. You've enjoyed the flavors of:
Sweet Potatoes
Carrots
Bananas
Pears
Apples
She also loves snacks now. Yogurt bites, mum mum's, bananas, and cheerios.
She grabs your face. And when she catches your gums... Ouch!
She's a pro-crawler now, up on her hands and knees like a big girl.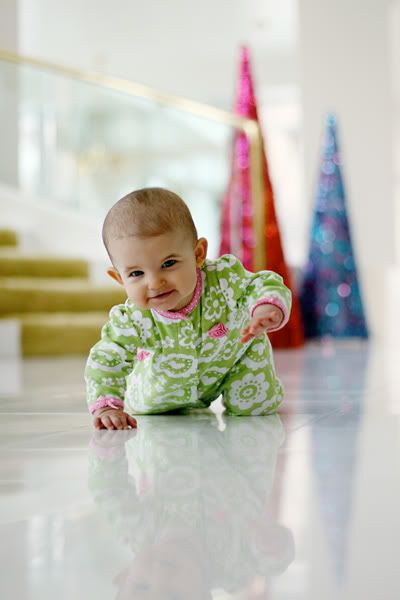 We love this little girl. Thanks for making every day so much fun Claire!