My brother James is 14!!! I love this little man so much. I can't believe how fast he's growing up. We had so much fun pulling weeds, doing crunches, running, playing Rock Band, seeing Ice Age 3, and just hanging out together.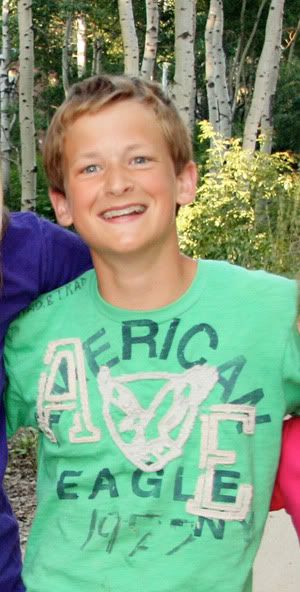 Here are 14 things I love about James:
1. I love his sense of humor. He gets funnier every time I see him.
2. This boy can fake cry better than anyone I know.
3. I love how strong he's getting and his daily push ups.
4. I loved hearing his strong testimony for the first time when he reported on his Pioneer Trek.
5. He made Student Body Officer for his 9th grade class. He's so popular!
6. I love how much he loves Dwayne Wade.
7. I loved that he let us dress him up as a girl so many times.
8. I love our memories of doing his scrapbook together.
9. I love how sad he got and immediately stopped calling our cat "fat" when I told him that we'll be able to communicate with animals in heaven.
10. I love that he can laugh and joke about his little incident at the cabin :)
11. He is so handsome! His blonde hair and blue eyes will melt every girl's heart I'm sure.
12. I love his batman symbol on his chest. He taped it to his chest and went tanning outside.
13. I love how great of buddies he and Brooke have been all their lives.
14. He loves his family! He's the coolest dude EVER!!
Love you James! I'm glad I got to see you on your big day! YOU ROCK!!
Happy Birthday to Grandma Gooney too!! Love you Goon!!