Hip hip hooray! We did it! The once virgin-triathletes have completed their first one!


4km run . 10km bike . 250meter swim
(2.5 mile run, 6.2 mile bike, 10 lap swim)

The popular gym here called Virgin Active, held their annual Triathlon series all over the country this weekend. It's broadcast on TV from some of the big gyms, it's free, you don't have to be a member to register, and it was perfect timing for us to do as a good, smaller 'practice under pressure' one before our big tri's coming up. I was SO nervous. It was like Christmas Eve for me, and if you know me, you know that my stomach and bowels do not do well with excitement and nervousness. And I was praying my guts out about my side stitch.

Before the races. Mine was at 1pm and Ben's was at 2pm (so we could cheer each other on and take pictures--which are really grainy because we didn't use my nice camera):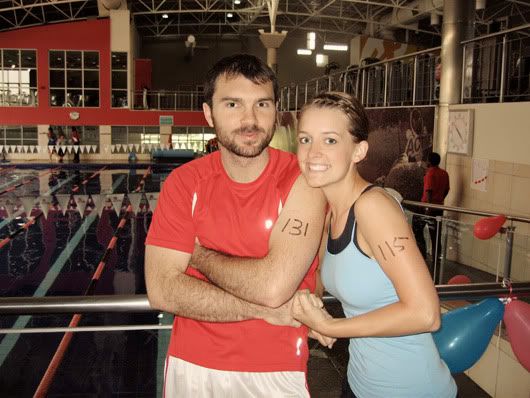 Doing some stretching:
In my heat, there were only 3 other people, 2 guys and one girl. And one of the guys took 1st place last year. I was not in the
beginner
group. Oh well. I was super proud of myself because I went faster, longer, and farther than I've ever done without stopping. I was focusing SO hard the entire time on my breathing though because I could feel the stitch starting at about 10 minutes, just wanting to come. But it didn't! I did the 4k in 22 minutes, which was awesome.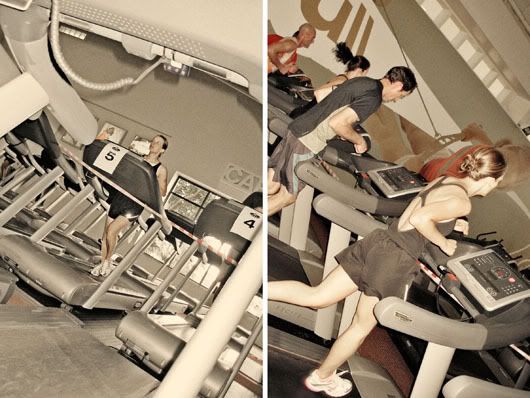 Next up, the bike. My legs were so jello but the bike was nice. My arms got so tired! They never have before in any of the training and spinning classes it was weird. I finished the 10k in 18 minutes.
And then, the swim. IT WAS SO HARD!!! It's usually my strong point but man, having it at the
end
after you're already winded and tired and out of breath...wow it was so hard in terms of breathing. My first lap was AWESOME. I felt like I was flying but then the other 9 were tough. I had to breath every other stroke (instead of every 3) and had to do breaststroke a couple of times once I got to lap 6:
I finished it in 6 minutes SO
exhausted
. I actually lost count and thought I had 2 more laps when I was really done, so I was kind of disappointed because I hadn't pushed and sprinted the last 2 like I had wanted. But it felt SO GOOD to be done!
You just have to flex when that number is on your arm, it's impossible not too. Too bad it's my weak left arm: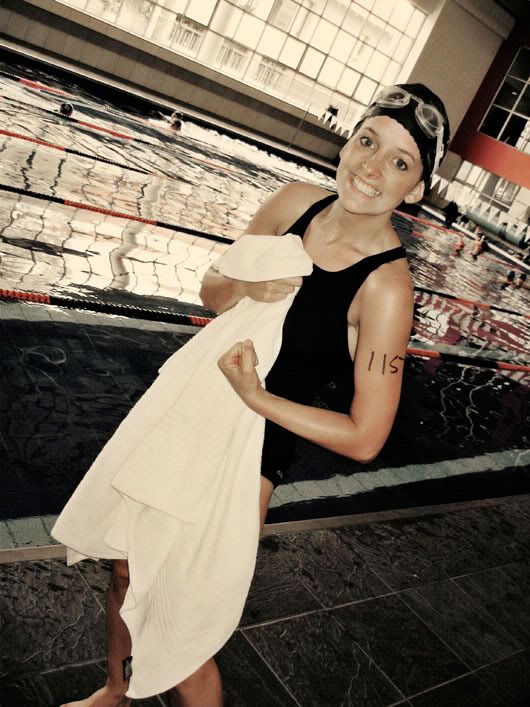 Then right to Ben! His was a bigger heat, there were 7 of them: 6 boys and 1 girl. The guy in the orange was intense! He was running at 18.5 k/h and Ben was running FAST at 15k/hr. The dude was a die hard, that's for sure.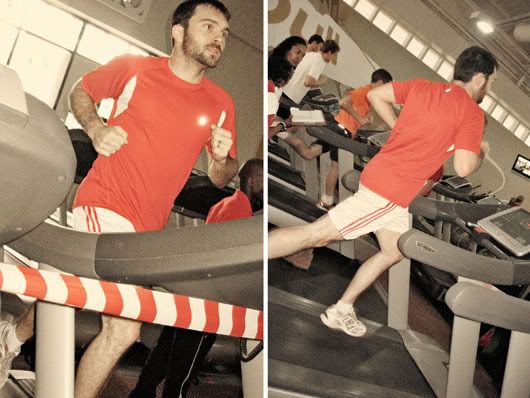 Ben did awesome, he finished his 4k in about 16 minutes, in 2nd place, and then on to the bike:
He did the 10k in about 14 minutes--still in 2nd place (right behind orangy). But Ben pretty much died on the swimming. I told him all that hair would slow him down...but he didn't care:)
I was just laughing because he did 1 lap of freestyle and then did this weird scissor/side stroke the rest of the time. He said he sucked in air weird in the beginning and it ruined the rest of it for him. He still finished in 7 minutes, in 3rd place overall!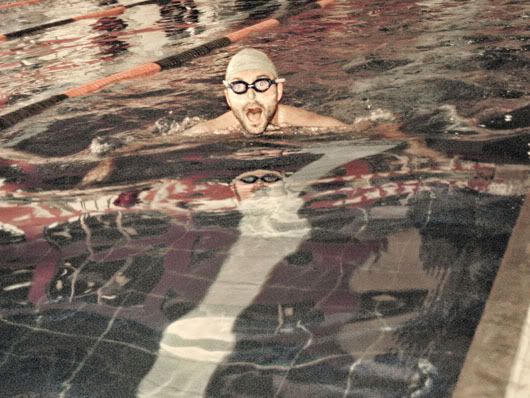 The results: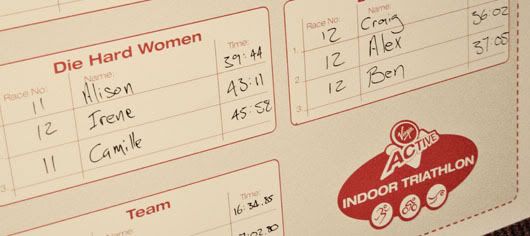 We both got 3rd! Too bad I got 3rd out of....3 girls, but whatever. I had a blast. And Ben did awesome and got 3rd out of 8 so he's a rock star! (Oh and he beat the guy in my heat that got 1st place last year--sucka!)
It was so fun. We both LOVED it. All the staff was right by our side the whole time cheering and dancing us on. We got free t-shirts (that say "I was game for a Threesome!") and backpacks and water bottles and juice! And man, we finished a triathlon! We just got back from Cafe Europe, this DELISH place we love and I usually can't ever finish my meal, but I
downed
it. And now I'm ready for a GIANT bowl of ice cream.
Only 3 weeks till my sprint triathlon (600 meter swim, 20km bike, 5km run)! AH! Can't wait!