I finished my first (possibly not last) sprint triathlon!! It was EGGSELENT!!!! I loved it and I am so happy I did it...and that it's done! The last couple of days were "rest" days, storing up on glycogen and preparing my muscles for the big day. I was so nervous the day before, it wasn't even funny. We got up at 6:30am and left at 7:30 to get there at 8:30 for my race at 9:30 (fun sentence). It was so chaotic -- there were hundreds and
hundreds
of people there. There were about 450 men that raced and 160 women (also, Veterans, Juniors, and Teams).
On to the race. I set up all my stuff in the transition area and headed to the water. We had heard that this was one of the worst dams to swim in because it was so filthy and they weren't lying!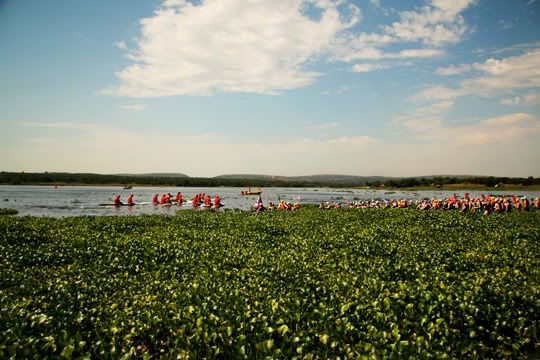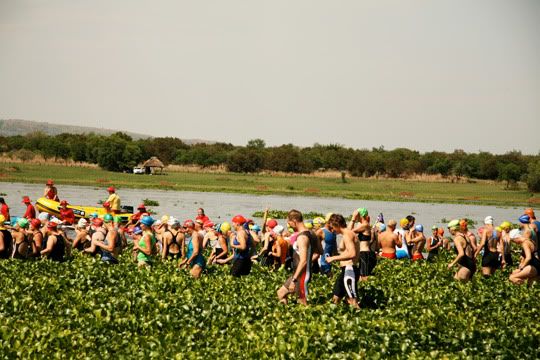 In the pictures it looks kind of pretty with all the plants floating on the water...but up close, it was so gross. It was like seaweed. It tasted like fish and mold. EW! I hope I don't get a disease....oh well. If I die, at least I'll have done a triathlon:)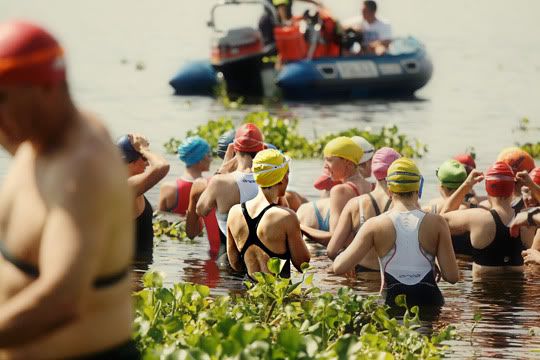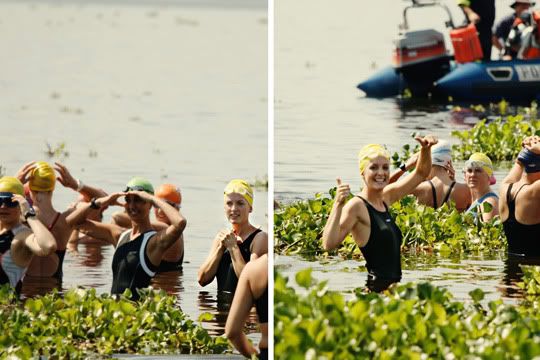 Anyway, women went first and then men started 15 minutes after us. The gun went off and we started the scramble! I made sure to stay on the outside far away from the big crowd, but it was still quite crazy in the beginning. Lots of splashing and kicking and chaos, but after about 5 minutes, it started to taper out and I found a good pocket to swim in and wasn't kicked the rest of the time (except for around the buoys).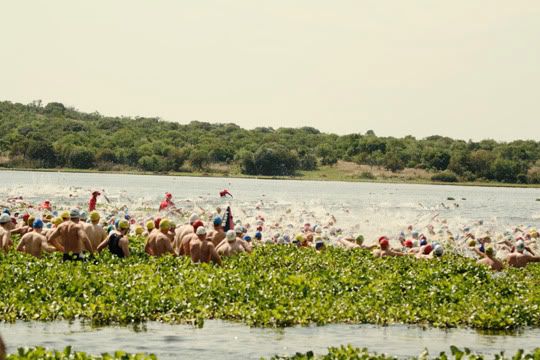 I knew that swimming in open water would be different than in the lap pool, but I still had no idea that it would be
that
different! It was so weird. You could only swim about 5 strokes before you had to switch to breaststroke just to straighten out and see where you were going.
(arrows for your convenience)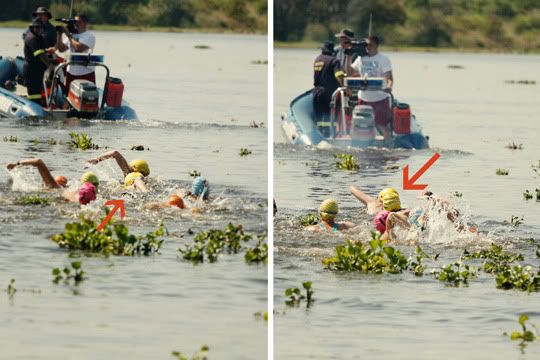 On the way back: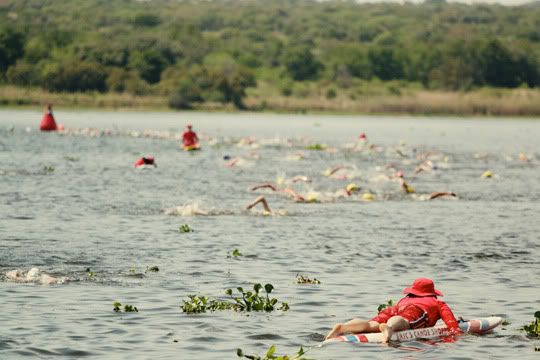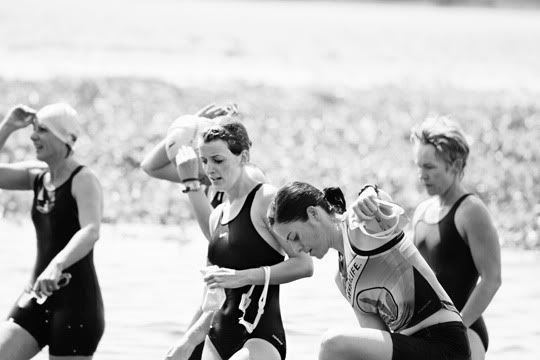 I felt awesome until I got to the shore and stood up, then I suddenly feel my fatigue. I got
really
dizzy and felt exhausted. But push on I did as we all ran to the transition area to get ready for the bike!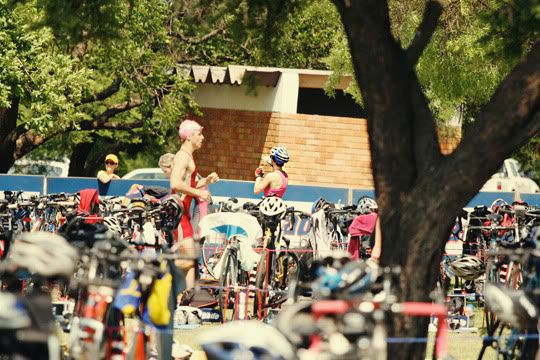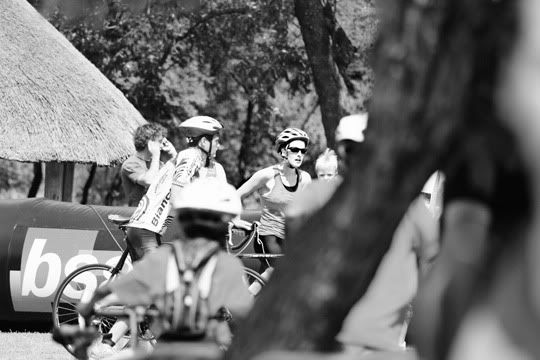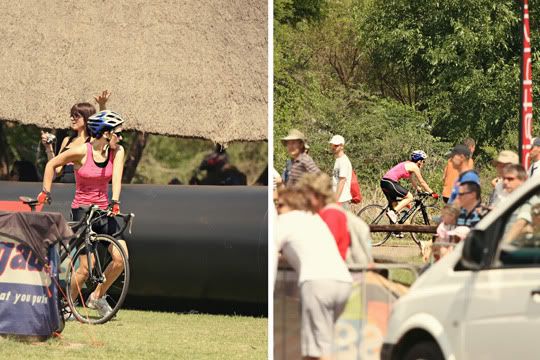 The bike was surprisingly the best and funnest part of the whole race! (Thanks to the awesome road bike I had). I took off and went at a really good and fast pace the whole 20km (12.6 miles). It was an awesome route. It did have a lot of small ups and downs, but it was nice because I could coast and drink water on the downs and push it on the hills. The road bike rocked because I would SMOKE anyone who was on a mountain bike on the hills, even though we were pushing the same. It was amazing! I felt SO incredibly good the whole time.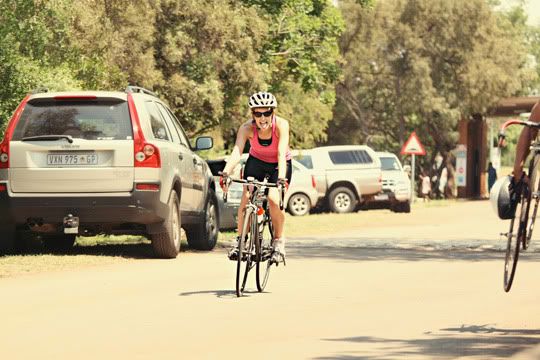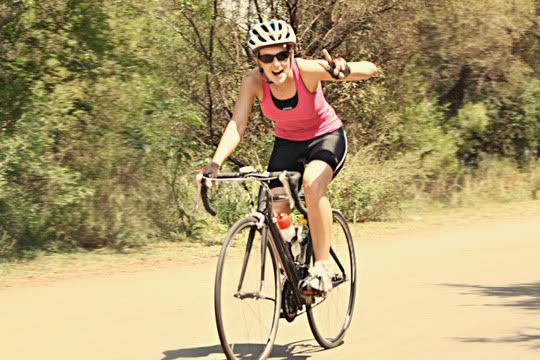 Off with the helmet and gloves and on with the run. I knew it would be the worst part for me and it really was. The only thing I was hoping and praying for was that I didn't get my stitch and IT CAME! It was really bad the ENTIRE run. I was focusing hard on breathing deep and with my diaphragm....but to no avail. The run was kind of hilly and all in the sun which was tough because it was SO hot.
(P.S. A

side stitch

is an intense stabbing pain, usually on the right side, under the

ribcage

. It is said to be a "muscle spasm" of the diaphragm. It can occur because of the movement of the internal organs as they jounce up and down while running, thus pulling down and straining the diaphragm as it moves up while exhaling. But who knows. I've tried everything).
I'm glad Ben took a picture of this guy because when I passed him, I thought, "What is he thinking!??"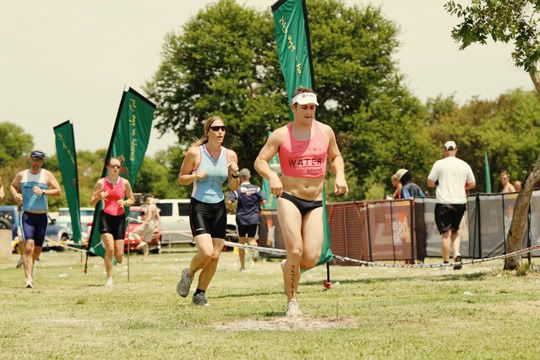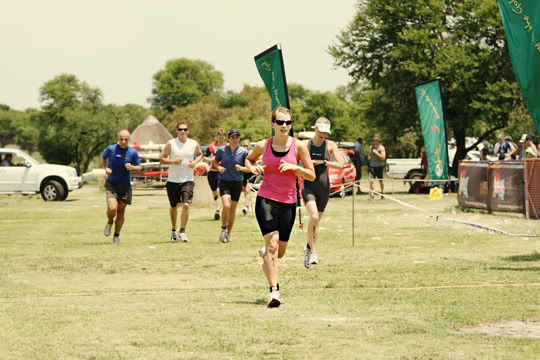 Almost done!!! Fighting the evil evil stitch:

My goal was just to finish under 1h 45m and I finished in
1:42:33
!!
Anyway--I'm done! And it felt so good. Wow. I loved it. Ben was a great cheerleader and took some AWESOME pictures. His ankle is feeling a little better and we'll see how he feels this week for his olympic tri this next weekend.