Last night was Monitor's Christmas Party. It's always fun to have a reason to dress up a little:)

It was "cocktails" for an hour (or for us, "Can I just have an orange juice please?"), then a really fancy meal 7:30-9pm, then Casino and dancing (and open bar) till midnight. They had gambling with fake money going on and you could buy raffle tickets with the fake money you won. I just watched. Ben had fun learning Craps and the strategy of Black Jack: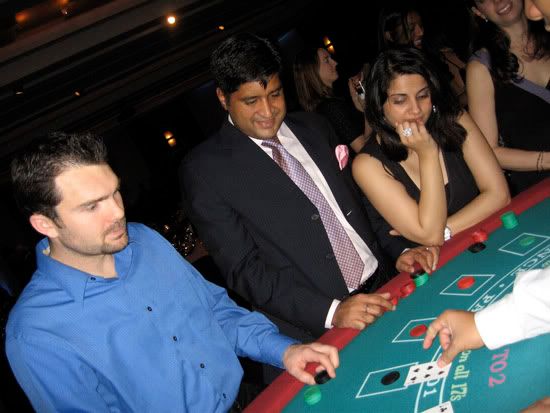 It's fun being a 'peculiar people.' Like this guy came up to talk to us and asked me, "So what are you having?" I looked down at my drink and said, "Cranberry juice, it's awesome." His face was so funny, "Oh...ok."
It's also fun to be the sober spectator's at a party (actually, this was our first time but it was quite the experience). It was pretty hilarious by the time dancing started....a lot of people were pretty hammered!
This is Ben's good friend Sumeet (and his wife Pavnov) from the office.
They're on the same case right now.
Peace.
It was a late night, but a fun one!