Back in Utah!!! I made it through the flight, with special thanks to Bride Wars, New in Town, He's Just Not That Into You, Slumdog Millionaire, The Incredible Hulk, Two Lovers, Baby Mama, some TV shows and music videos, a curry chicken meal, apple juice, 3 stops to the bathroom, chutney pretzels, 1 hour of sleep, gourmet eggs, Edward, Bella and Jacob, a micro-thin blanket, thoughts of Air France, and the man sitting next to me, who unfortunately decided his feet needed some of
my
fresh air for the entire 16 hour leg of the flight, proceeding to onset my gag reflexes every 5 minutes...that's 192 times...
FYI: It's really not as bad as I make it out to be.
Landing at noon, we proceeded
directly
to CAFE RIO with my mom and sister, Brooke. Best welcome home treat ever. Thanks Mom. It's a crime that this blessing hasn't touched other states. Someday.
Second thing I did when I got home was get my wedding ring. Oh how I missed my diamond. I was counseled not to take it, and have had a decoy in it's place for the last 6 months. I'm excited to be wearing it for the next month. It's back where it belongs.
On being back:
1)
Touching down in Utah I got a little teary. It happens every time I have been in another country for an extended period of time. America is amazing. There's nothing like it and we are so blessed.

2)
There is a distinct "feeling" since I've been here...and it's not the fact that I'm back in Mormonville, it's called
relaxation
, where I don't have to lock my doors the second I get in, cling tightly to my purse, hide my things in the trunk, worry subconsciously that someone selling things in every intersection will shatter my window.

3)
I also might be a little more rude since South Africa. I'm so used to people being
everywhere
begging or trying to sell me things, coming up to my window when I'm stopped, knocking on my window. In South Africa I know that if I turn to look at them and say "No," that simple acknowledgment will spur them into a frenzy where they won't leave you alone. But if you look straight ahead and ignore them completely, they move on. That flight attendant probably thought "Who does this lady think she is?" as I proceeded to "ignore her completely looking straight ahead" instead of politely saying, "No thank you" when she asked me if I wanted anything from the Sky Magazine.
4)
It's a good thing I'm not driving yet. Or you would find me in head-on traffic yelling "EVERYONE IS GOING THE WRONG WAY!!!"
5)
I love cereal. If you asked me what I would be eating if I knew I was dying in 10 minutes, it would be cereal. I am enjoying have 2 or 3 bowls of different cereals every morning. There are 2 types of cereals in South Africa, Corn Flakes and Frosties. Oh how I have missed Golden Grahams, Apple Cinnamon Cheerios, Lucky Charms, Honey Bunches of Oats, and Frosted Mini Wheats.
6)
I love looking out the window of my parent's place right now, watching the colors of the sunrise on the mountains of the canyon, the snow on Snow Basin, the green, and all the boaters pulling the skiers on that perfect glass. Oh this valley.
The first exciting event was seeing my best friend from high school, jr. high, elementary: Sarah Allen, who just returned home from her mission to Oregon. We picked up right where we left off as two goofy immature 18 year olds. It was wonderful.
I was super excited for yesterday, the 19th because it was one of my best friend Haylie Cox's birthday. I told her I wasn't coming in until the 23rd. She was planning a big Hogle Zoo trip with a bunch of friends, so I (with Sarah's help), went early and hid by the lion drinking fountain. Thanks to Sarah who "needed to get a picture drinking out of this fountain," I jumped out and surprised Haylie for her birthday. Totally awesome.
I will admit. I will never be satisfied by a "zoo" again :)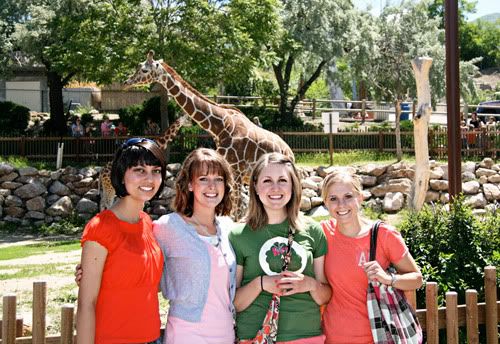 Haylie while we were singing to her at PF Changs: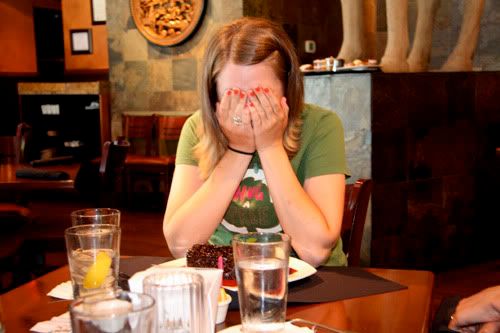 Love ya Haylie!

It's great that I've been so busy running around all day because when the 2-4am South Africa time hits (around 5-7pm Utah time)....I haven't been near a bed yet. I'm waking up at 5am, but doing pretty well!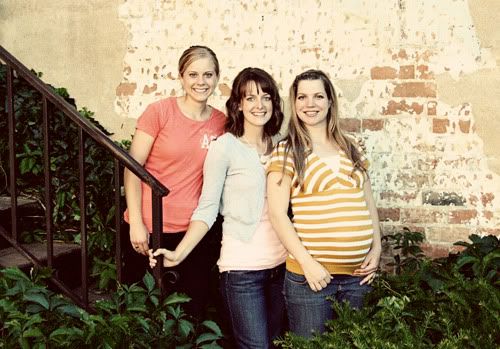 My other best friend (I know...I have many) is having her baby girl TODAY! I can't wait to meet the little lady. I told her to wait for me to come in to come out of her mama and man she loves me already. I was able to take
Lyndee's preggo pictures
yesterday which turned out SUPER cute. Please bless I'm this cute with a baby inside me someday.
Her sister Kara brought her handsome little guy Colin along and we got some of his 18 month pictures too. What a cutie (pictures coming soon).

Well--I'm off to do some chores! I guess I gotta help around the house since I'm living here again!