So I missed yesterday because we were basically just flying all day and then when we got to Arizona, we just visited with family and then crashed. Claire rocked the first connection, and then on the second one she got fussy and wouldn't sleep and wanted to scream a little and fuss... but luckily we had the only open seat on the plane between us so we could lay her out and let her sleep. I don't know what we would have done without that seat. Anyway:

"A person I love"
Do I need to be creative? Or I can I just be boring and obvious. I love
these
two of course. And
these
people and of course
them
.
But in all honesty, I must give thanks for Benjamin. He is the best man I know and I am grateful for him every day of my life. I'm grateful for his hard work, his dedication, his testimony, his attitude, his perspective and optimism. For putting Claire and me first and having his priorities straight.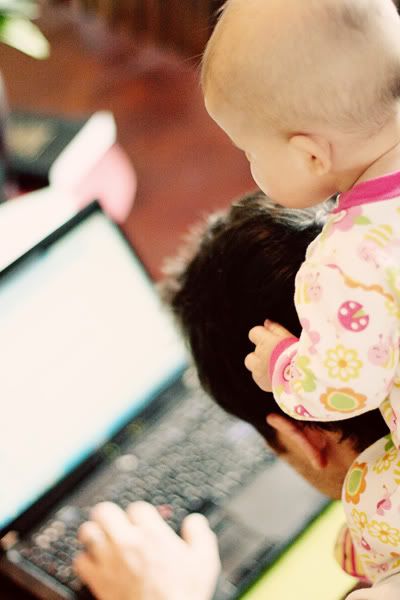 (what happens when he works from home)
For loving our families and wanting to be close to them so Claire can know her grandparents and aunts and uncles. Which leads me into.....
"A secret you want to get out"
OKay, I think it's about time to tell the world.
We
.
.
.
.
.
are
.
.
.
.
.
.
.
.
.
.
Jump, shout, scream, dance hooray! Ben has found another awesome job and we will be permanently relocating back to our home state mid-
February
.
We could not be more excited.